This article explains how to connect your Airbnb account to your Amenitiz Channel Manager.
Before connecting
Before the connection, you will need to check a few things:
You have an Airbnb or OTA rate plan created on Amenitiz. If you do not have it yet for Airbnb, Click here to see how to create a rate plan.

Your Airbnb rate plan includes all your accommodations on Airbnb.

The structuring of the rooms/accommodations on Airbnb is the same as on Amenitiz: you can connect 1 room on Airbnb with 1 room on Amenitiz.

You own the login details of the Airbnb owner account (the connection can not be done from the co-host account).
The channel manager's direct connection between Amenitiz and Airbnb can ONLY be done by having 1 Amenitiz account and 1 Airbnb account. Properties having more Amenitiz accounts and 1 Airbnb account cannot be connected directly.
If your Airbnb account was not connected to a channel manager before, the commission model will change on your Airbnb account. Airbnb will charge between 14 and 16% of commissions to the owner, instead of the service fees charged to the clients before. By adding an increase to your Airbnb rate, this modification will not have any impact on the client side since the commissions are just transferred from the client to the owner. Click here for more information.
1. Disconnect your previous channel manager:
If you don't have a channel manager for your Airbnb account then you don't need to disconnect it.
Otherwise, the first step is to disconnect your previous channel manager from your Airbnb account.
You can log into your Airbnb.com account, then in profile > account > privacy & sharing > connected apps > remove access.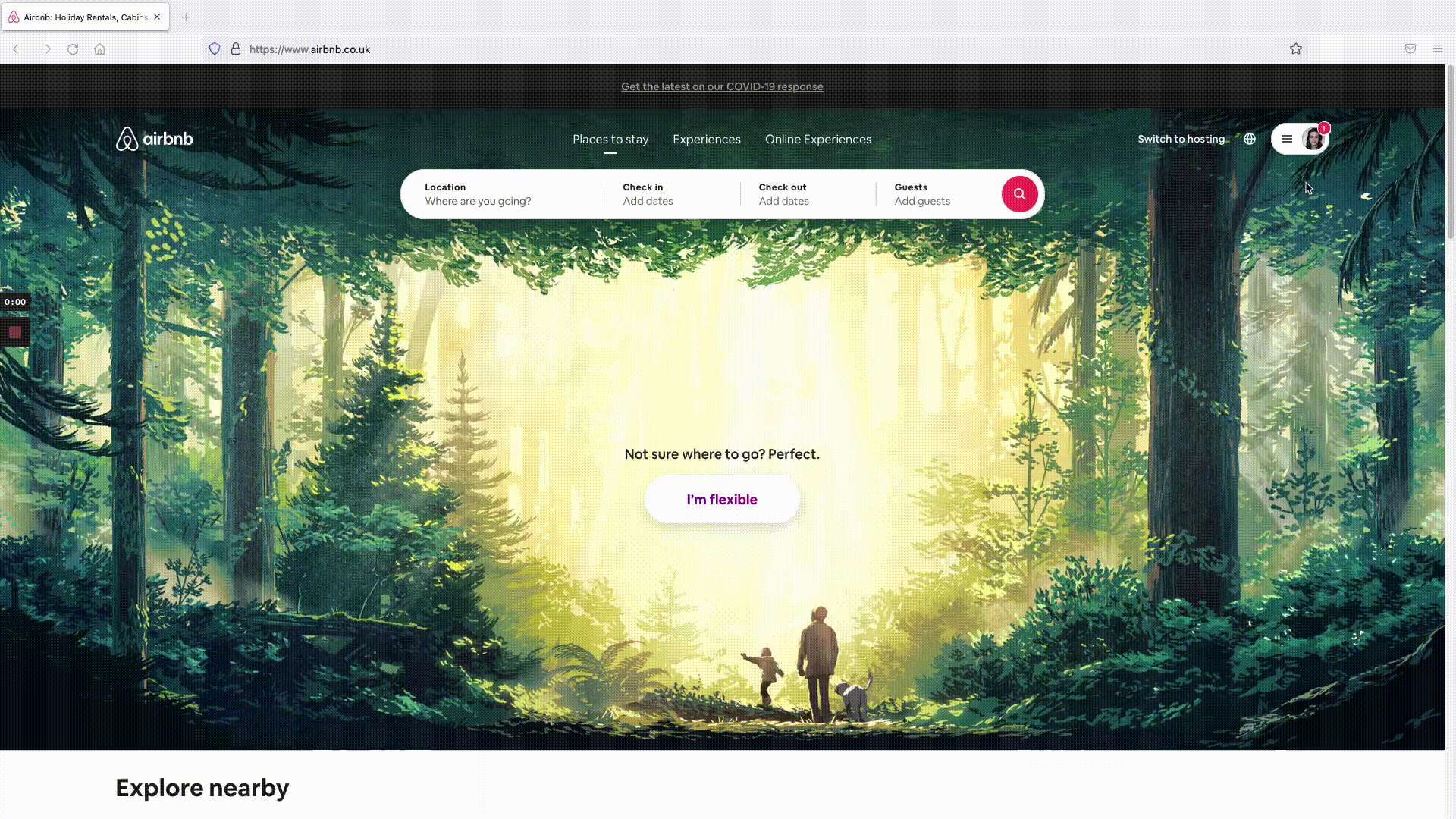 2. Connect with Airbnb
You will need to log into your Amenitiz extranet, then simply go to > Channel Manager in the sidebar of your Amenitiz administrator space, then go to > OTAS and click on "Activate Airbnb".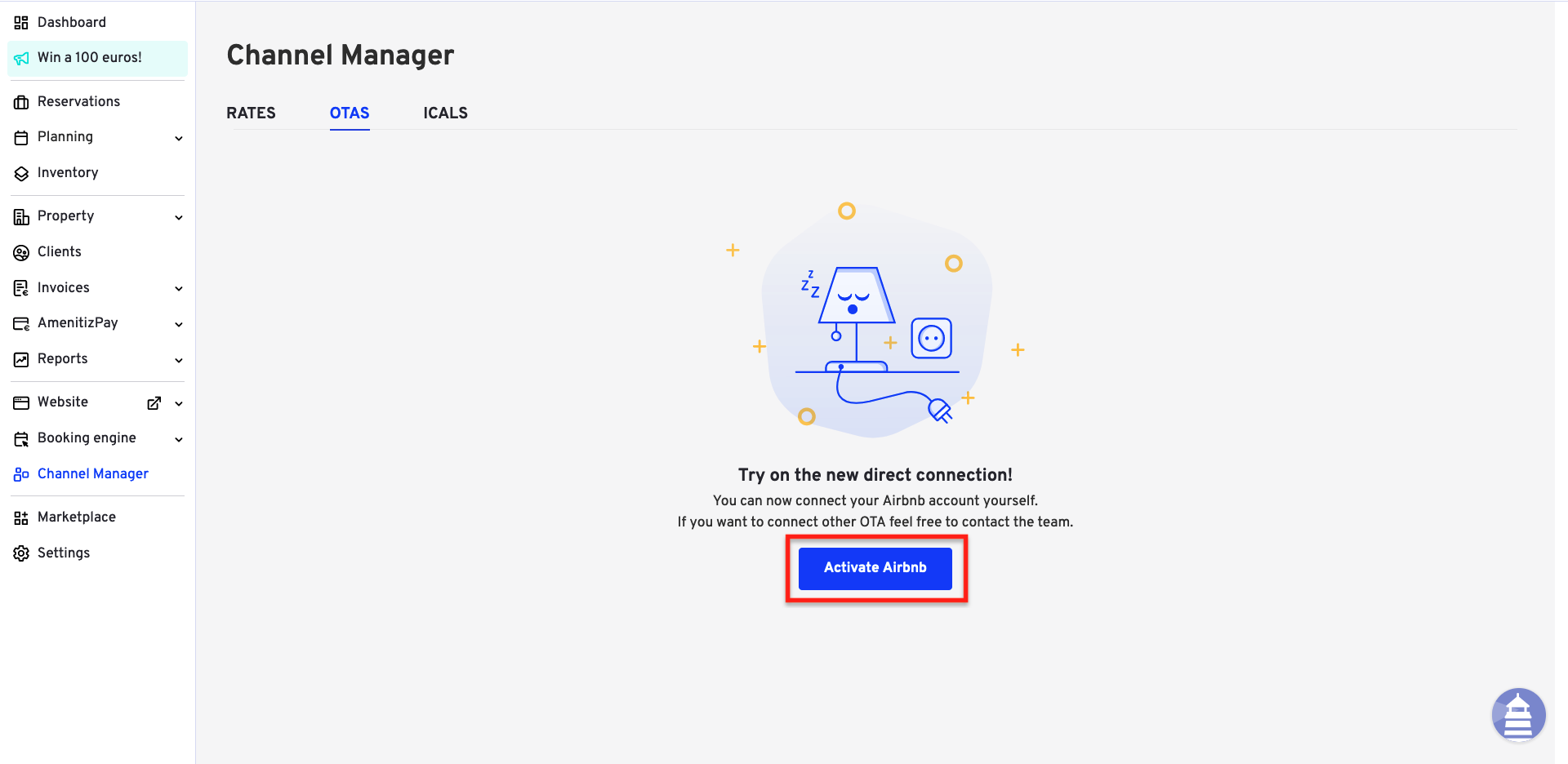 Step 1: Connect with Airbnb
You arrive on the Airbnb activation page: just click on "connect with Airbnb":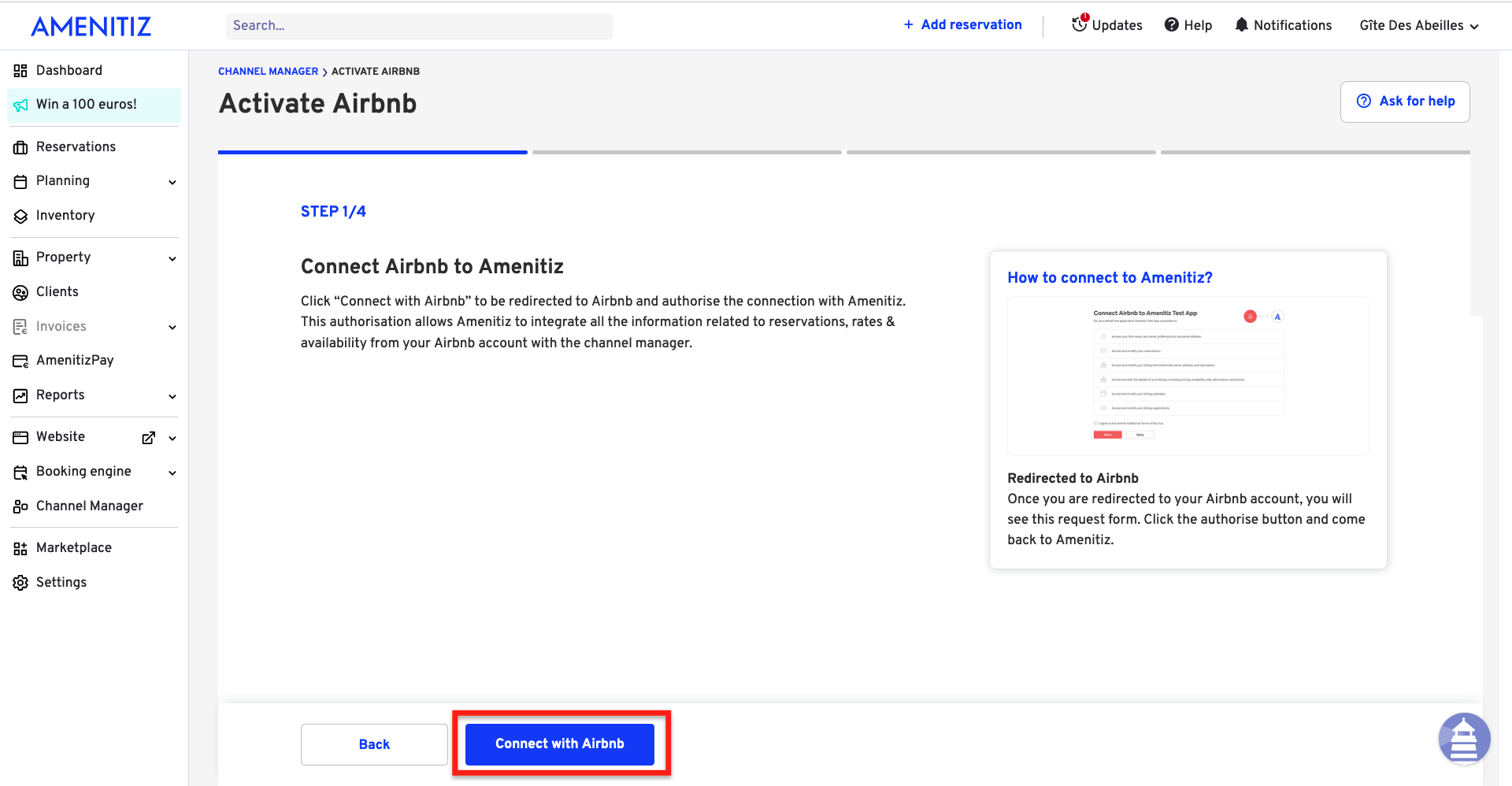 You are redirected to the Airbnb login page, you can then log in by entering your email address and password (or your phone number) linked to your Airbnb account.
Once you have logged in, you will arrive on the channel manager page, where you can agree to the Airbnb Additional Terms of Service and allow the connection: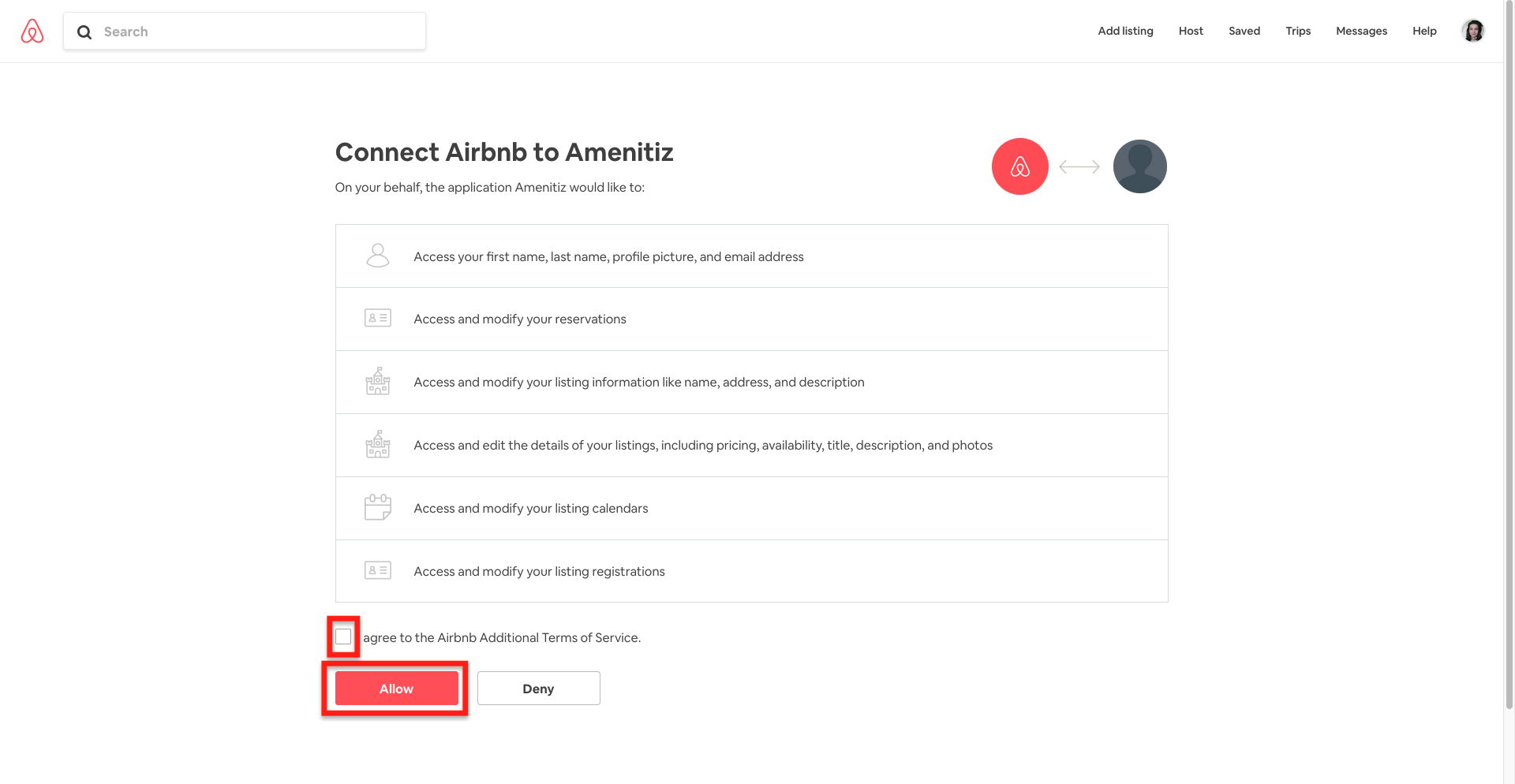 Step 2: Room mapping
On the left side you will find the list of your Amenitiz accommodations, what you have to do is select the matching rooms on the right side with the drop-down menu. Once you made the connections, click on "Continue".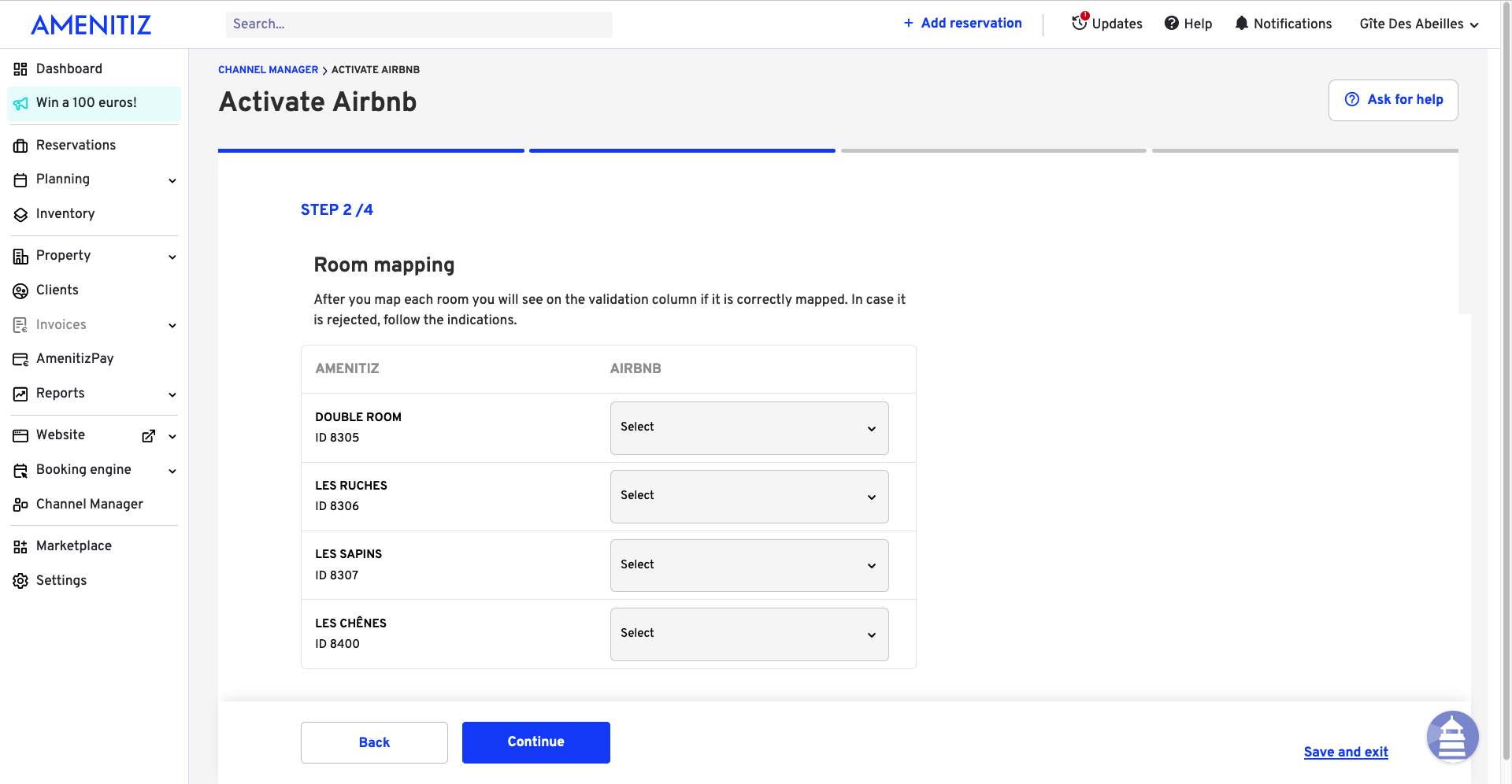 If some of your Airbnb listings were hidden/unlisted, they will be automatically published when you get connected. You can hide/unlist them again at the end of the connection.
Step 3: Rate plans mapping
Choose the rate to connect with Airbnb on the rate drop-down menu, then click "Continue".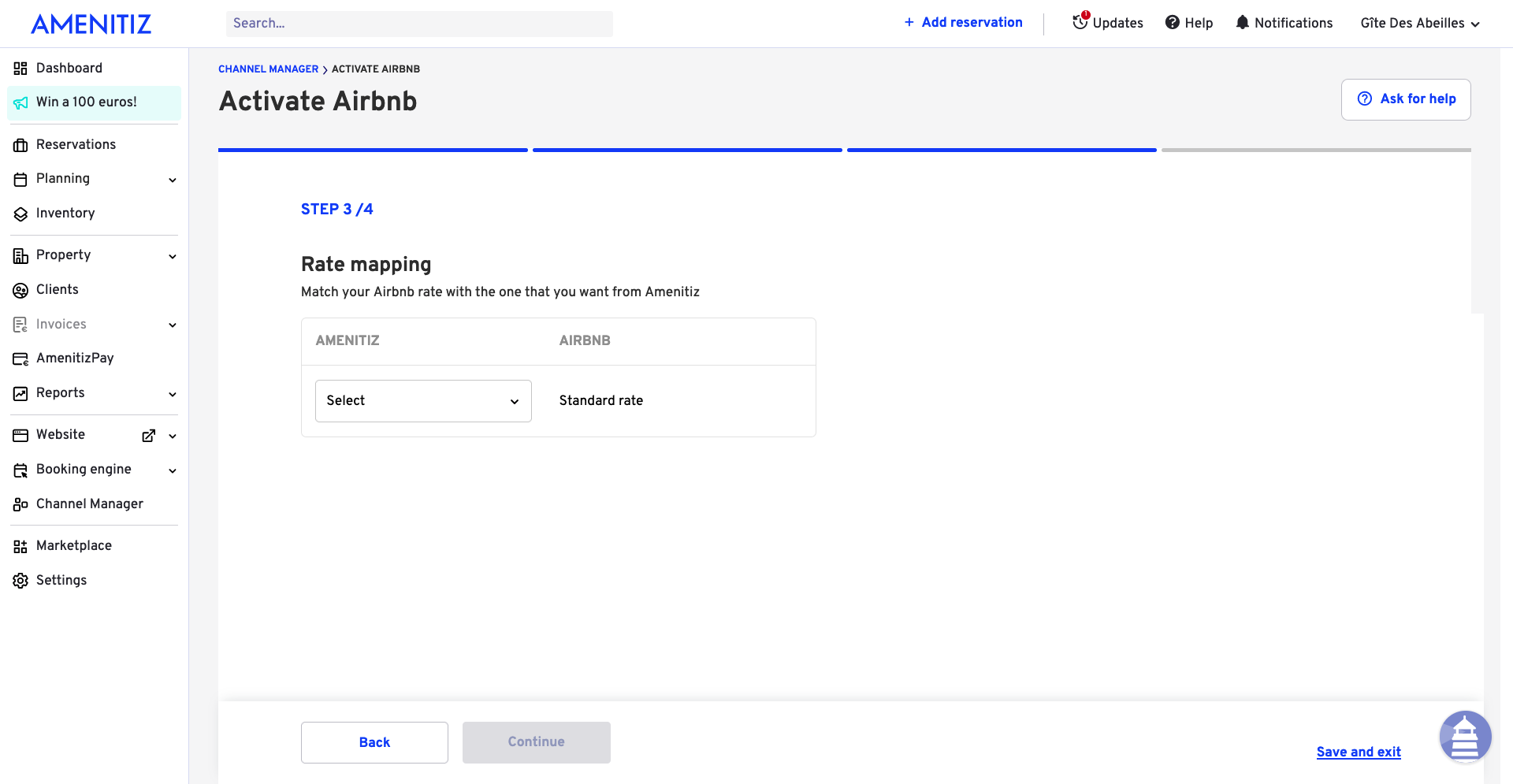 Step 4: Import bookings
You can import future bookings from Airbnb if they are not in your Amenitiz planning by clicking on "I have reservations on Airbnb" then "import" and "activate".
Good to know: Only bookings with arrival for today or later will be imported. If you have current bookings with arrival before the day you connected Airbnb, they will not be imported to your Amenitiz account.
If they already are in your Amenitiz planning, then choose "I don't have reservations on Airbnb" and "activate".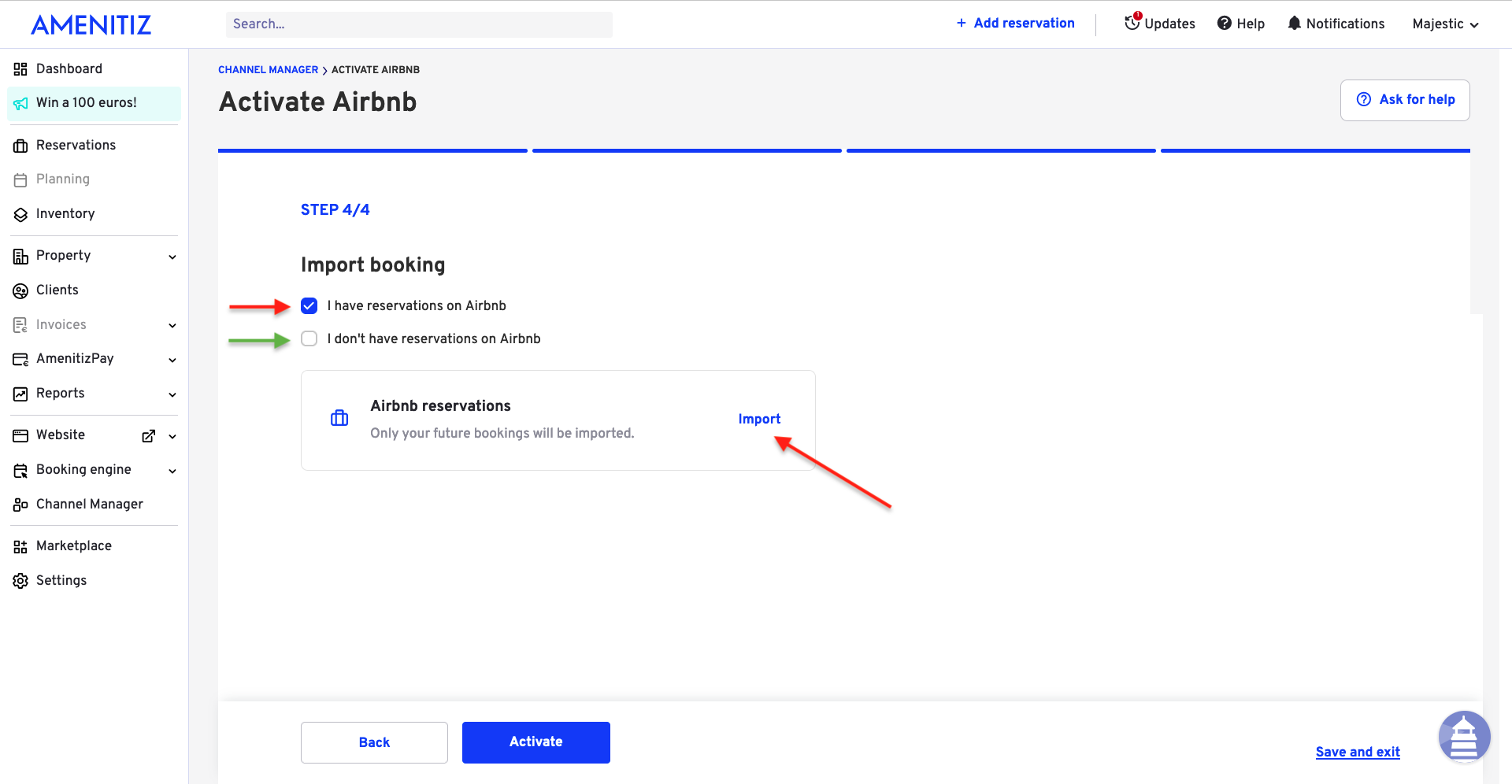 Your connection is now active, you just need to check that your Airbnb rate is open on your Amenitiz inventory, click here to see how to open your rates.
3/ Configure your Airbnb settings
To configure your Airbnb settings, you just have to go to > Channel Manager in the sidebar of your Amenitiz administrator area, then go to > OTAS then > Airbnb.
You will arrive on this page: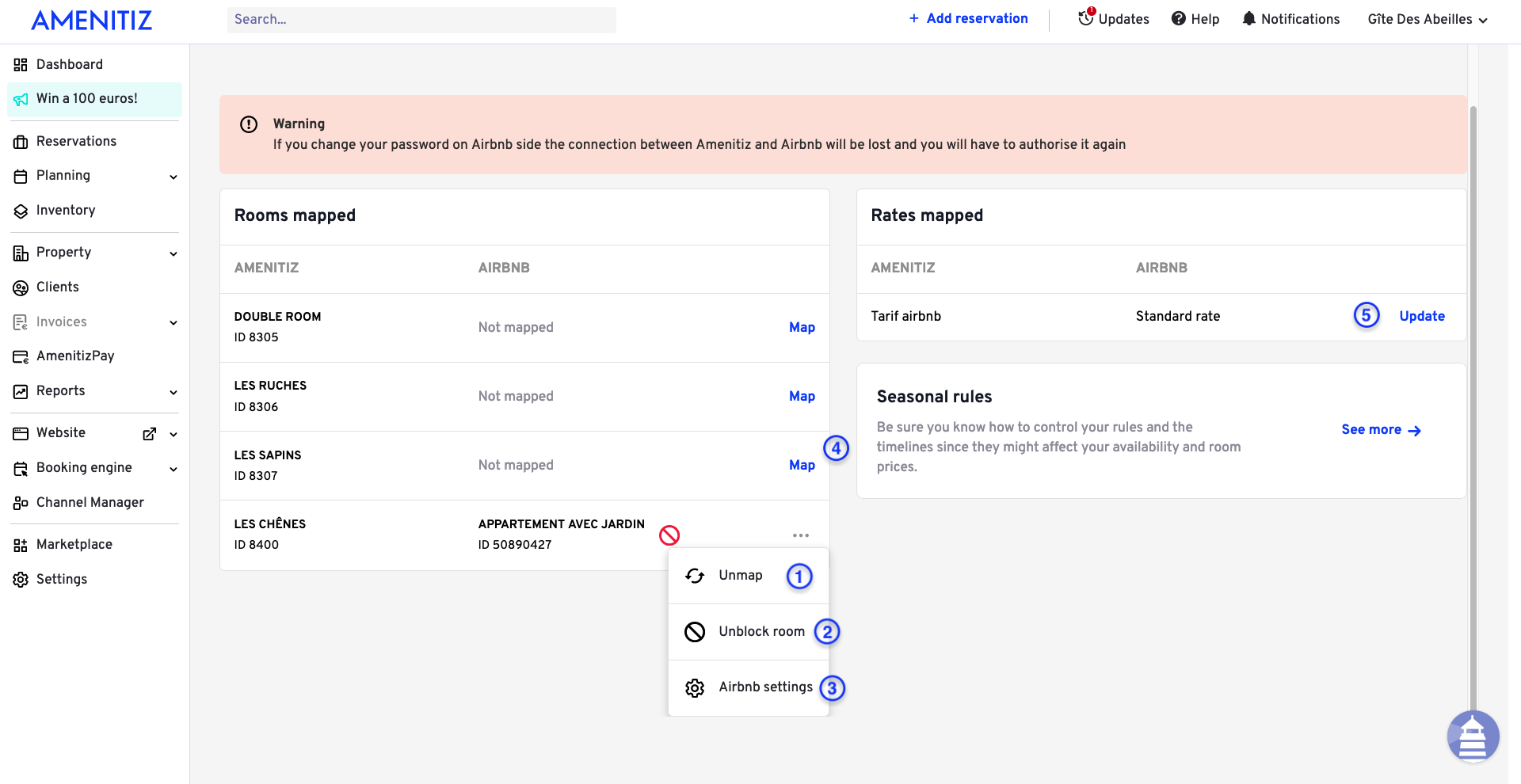 Map/unmap: From here you can unmap = disconnect your accommodation from the channel manager. The management of prices, restrictions, and availabilities will then have to be managed from your Airbnb inventory for this accommodation, and the reservations for this accommodation will no longer go through the channel manager.

Unblock room: The red icon means that your listing is hidden/unlisted on Airbnb, you can unblock/publish it from this button.

Airbnb settings: From here you can manage your prices and availability settings. Click here to see how to manage your Airbnb settings.

Map: When you create a new listing on Airbnb, you can connect it to Amenitiz from this button. Click here to see how to map a new room.

Update: From here you can change the price plan linked to Airbnb.