With the Airbnb direct connection, it is possible to manage some Airbnb settings from your channel manager tab of your Amenitiz Administrator area.
This article only applies to Airbnb connections made from your Amenitiz administrator area, in the > Channel Manager section. If you have any doubts, do not hesitate to contact our support.
To change your Airbnb settings, you just have to go to > Channel Manager in the sidebar of your Amenitiz administrator space, then go to > OTAS and > Airbnb.
You will arrive on the Airbnb connection settings page.
Click on the 3 horizontal dots on the right of the accommodation, and on "Airbnb Settings"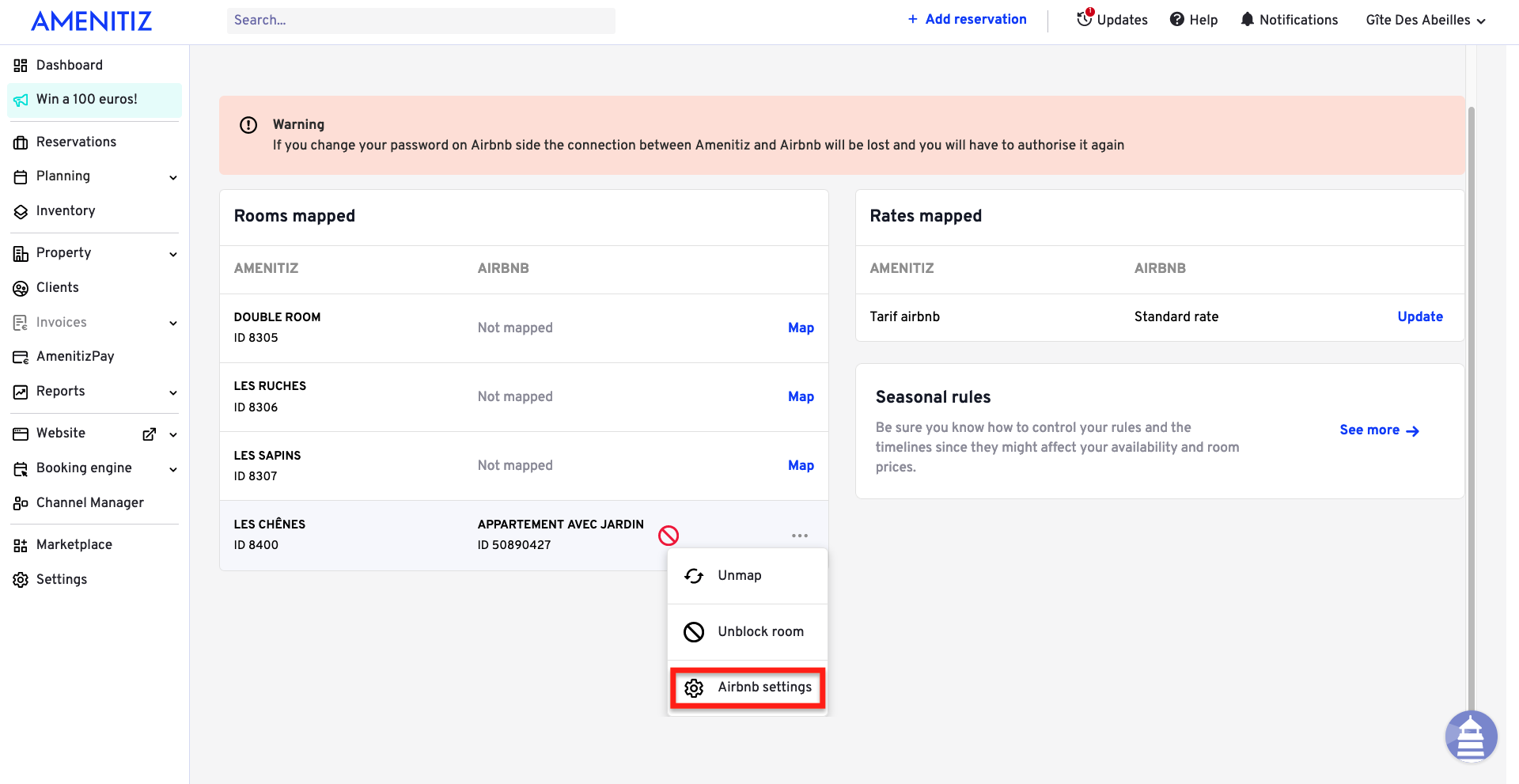 You arrive on the settings page, where you can find your pricings and availability:
Pricings



Pricing:
Default daily price: it is the price added by default before the connection. It must not be below €15, but the prices sent to Airbnb are those of your inventory.
Default weekend price: it is the default price for weekends added before the connection.

Length of stay discount:
They correspond to your monthly and weekly promotions.

Standard fees and charges:
Price per extra guest: it is your pricing per person, in € per guest not included in your price.
Guests included: it corresponds to the number of guests included in your price.

Security deposit: it is your security deposit for that accommodation, it must be at least €85. These funds will be held for 14 days from the arrival of the client, or less if they are staying less than 14 days and a new client arrives after their departure.

Cleaning fee : Your cleaning fee for this accommodation, if you set up a cleaning fee it will be mandatory.



Availability



Advanced booking:
Max. advanced booking: It corresponds to the number of days until which it is possible to book. It must be marked "all available" so that clients can book.
Min. hours of advanced notice (in hours): this is your notice period before new bookings.

Turnover days:
It corresponds to the number of days that will automatically be blocked after each new reservation.

Length of stay, Check-in days, Checkout days, Minimum length stay per day:
They were set up before logging in, but the information in the inventory will replace this information when connecting to the channel manager.
After changing your settings, don't forget to > Update at the bottom right of the page