The booking engine can be customized before its launching or when it is online. It is possible to change the image appearing on the home page of your booking engine, the date picker, the information requested from your guests to book or the automated messages. This article explains you how to change these design options.

To change your booking engine design, simply click on > Booking Engine in the sidebar of your Amenitiz administrator area, and on > Settings. You will land on the design section: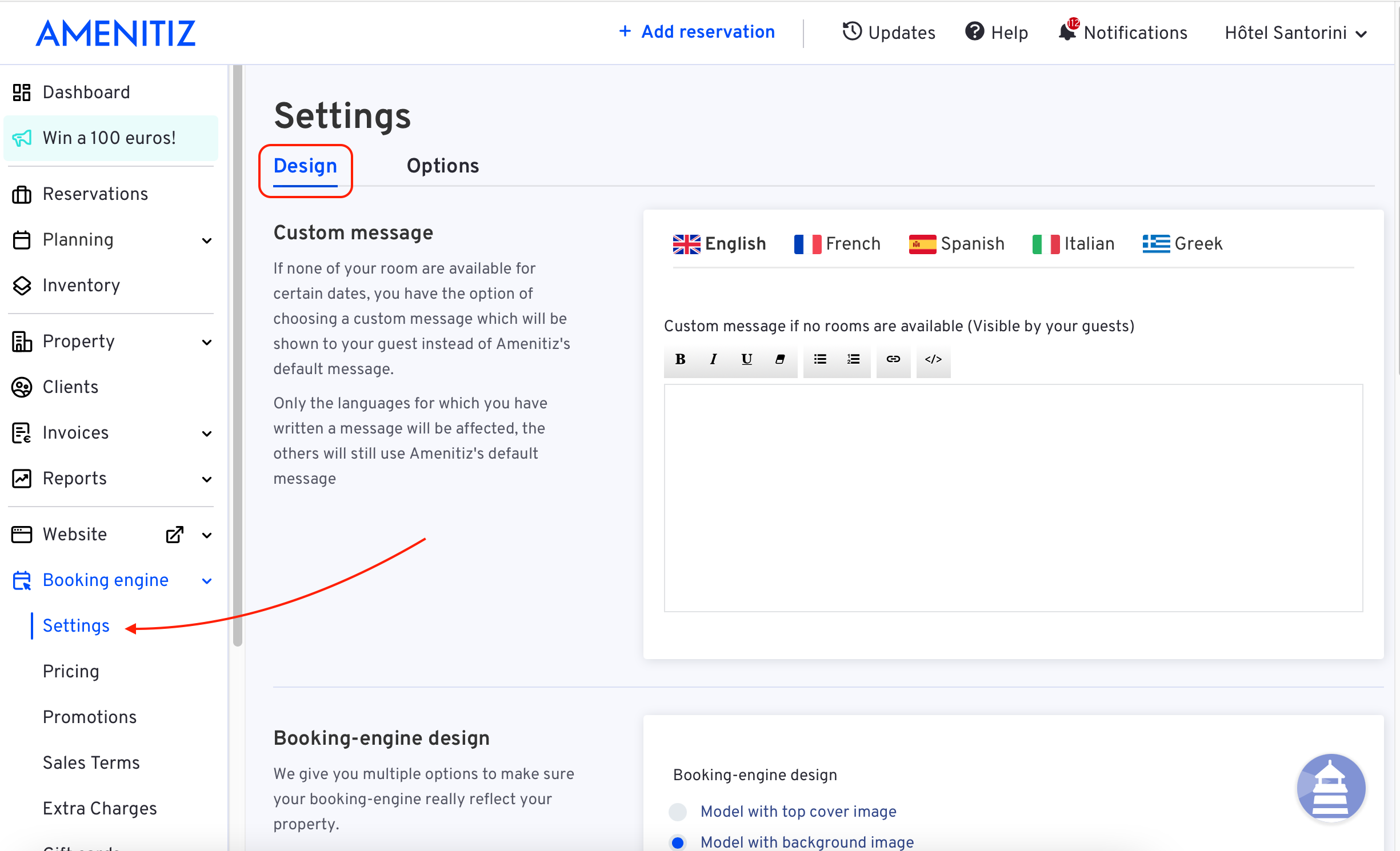 Custom message:

create a message that will appear on your booking engine whenever you have no rooms available, or most of the time whenever all your rate plans are closed.

By default, here is the message appearing on your booking engine before customizing it:

The phone number will be the one added in the property > general section of your account
Warning
The translation is not automatic, so do not forget to manually add your message in all the other languages you activated on your website.

Booking-engine design:

here you will be able to choose the model of the booking engine:
You can add a background image, or a top cover image as a banner on the upper part of the screen if you want to.


Here is the recommended size of the cover image: 1350 x 270

You will also be able to choose the main colour of the booking engine (the colour of the buttons) and the date picker model.



If you select the "Date range picker", the minimum stay restrictions of your standard rate, if they concern all your accommodations, will appear when you select a date.

Also, if all your accommodations are blocked on a specific period, these dates will appear in red:





Customization options: t

o change your booking engine options, simply

go to the "

Options" section:
You will here be able to define if you want to capture the full address of the client. In any cases, the mandatory fields will be: the name, surname, email address, phone number and country. By choosing the full address, the guest will also fill in the address, zip code and city.
You can also choose the number of people of your booking-engine selector.
You can also change the order in which your accommodations appear on the Booking engine, by going in property > accommodation, selecting the accommodation to move and moving it up or down to the desired location.
You can find out here how to prevent bookings from a certain time of day, and here how to allow overbooking.